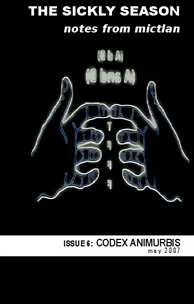 ISSUE 6: CODEX ANIMURBIS
m a y 2007
print media copies are available
for exchange, please send mailing address & non-monetary gift to address below

---
listen:
lenguanimurbis
[01:00:00; 56 megabytes]
download [ctrl-/right- click link]:
lenguanimurbis
[01:00:00; 56 megabytes]
.............................................................................................................................................................................
| muzik / film :
u n d e rworld; carmen delia dipini; steely dan; michael haneke—code unkown |
| vox populi :
neltí gonzales; babylon brother; juan diego in drag; cecilia wray & russian redliners; joe brisbane (the redline prophet); los pericos de so pas |
| lugares / espacios / sueños :
los angeles mta redline universal city station
groundworks cafe, traction st., los angeles
gonzales residence, echo park, los angeles
billy wilder theater, armand hammer museum, westwood, los angeles
main street, b/t 4th & 5th, los angeles
los angeles mta redline
south pasadena public library |
| audio recommendations :
earphones.highspeedinternet.mp3player.strategicblindness |

mil gracias a Neltí Gonzales por sus ideas, su tiempo, su energía, y la voz
---
2.digital text:
HORROR VACUI
"All I can guarantee you is that as long as you are searching for happiness, you will remain unhappy."
--U.G. Krishnamurti (1918-2007)
"For me, the world is a defiance to common sense."
--René Magritte
"The two hemispheres in my brain...are competing?"
-- A Scanner Darkly (2006). Dir. Richard Linklater.
Seesaw was telling me about an epileptic man she once knew who had the connection between the right and left sides of his brain severed in an accident. He would be thinking of reaching out for one thing, but his hand would actually reach for something else. There was a split between desire and execution. Between one desire and another desire. Seesaw could see the connection to her own situation and her relationship to me, and I think that's why she told me the story in the first place, but I don't think she fully understood the conflicting desires she was expressing that day.
"I once developed a case of trigger finger," she went on.
It was hot outside, her arms were exposed, and I could smell her, but I knew better than to get mixed up in all of that drama. She said, "When I bent my finger it made a popping sound that was like a bullet being fired." She told me how she would point her trigger finger at the foreheads of unsuspecting victims on the bus and in other public places, and then pop it.
Pop. Pop. Pop.
You're dead. You're dead. You're dead.
This was her assault on the dangerous conflation of dreams and lies that had taken hold of the populace during a period of particularly virulent mass hypnosis. No one could tell the difference at the time. The lines between animate and inanimate, the languages of dreams and advertisements, lies and metaphors. The deeper truths in the overlap. The masking. The denial. "Sometimes I wished there were still a clear demarcation," Seesaw told me, later.
To make matters worse, at the time, two warring gurus were visiting from India. Each was an icon in his own right, but they could not come to an agreement about several fundamental principles regarding existence and being. They had the same last name and spoke the same languages, but they were unintelligible to one another. Eventually, the masses split off into two camps in support of the gurus and began to bicker and argue over which guru was false, which was truly wise, which was honest, and which full of lies.
"And so, the death took place in the Valley. He shot her dead, and then he shot himself in the mouth. The bullet passed through his left eye, but he survived. His failed suicide left him sightless in one eye, and left him with a permanent ringing in one ear. Now he plants one foot in place and continually turns circles in search of the sound, but it always remains just beyond his one eye's line of sight. His body is forever weighted to one direction, drawn by blind desire, deaf emotion, repetitive motion."
("Misdirected functioning lives.")
One guru died, and then the other one died, many years later. Nothing was ever resolved.
Either way, Seesaw was always uncomfortable with the sound of her own voice because she knew that it was incapable of conveying truth. She told lies and then denied their source when presented with the evidence of an audio recording of them.
Once, she told us how her voice had been shaped. It was a story filled with trauma and heartache, but like much of what she said, something about it rang false in my ear.
Then again, maybe it was just all the blows I had taken from similar voices that had permanently damaged my eardrums over the years. There was evidence of certain contagions moving freely back and forth, slippages between natural and artificial, open and closed, animal and human. She often wore outlandish hats and extravagant outfits in her efforts to fit in while not fitting in. "The Red Model," I called her once, because if you looked closely and carefully and long enough, you could see her elegant red pumps morphing into warped, gnarled human feet; you could hear the truth of her words mutating into lies. "She is caught in an in-between space," we would say. At first, it was with the sympathy of fellow nepantler@s willing to reach out and lend a hand. But after Seesaw consistently refused our various efforts to connect with her, the compassion wore thin, and soon it was with more sarcasm and impatience than anything else that we spoke of her, as we realized another agenda might be at work.
After a while, there were mutters and innuendos. Opportunist. Sellout. Fake. We all knew--herself included--that she would one day be a very powerful player. But what some of us failed to see was what game it was, exactly, that she was playing. I knew, I could see. A few others, too--they could see it. It was the same old game. Zero sum. Winner take all. She was a winner, I could feel it, she could feel it--and even if they didn't quite understand it fully, everyone else could feel it, too. She was a winner, well on her way to a lifetime of winning. She embodied the beautiful relations, she was a perfectly artificial element in a natural environment, she was an invasive agent from an alien system, wearing a flimsy disguise and a mask that kept slipping each time she opened her mouth. And no matter how hard she worked to hide it, she was here to draw what she could from us before returning to her plastic world.
Because for her, the fuzzy line between dream and lie afforded her not the opportunity to grow, nor to expand and create a new reality, but instead, to steal from us, to loot, to pillage. She was at once a simulation and a substitute of herself and her image of herself. She would take our spirits, water them down, prepare them for consumption. She masked and elided her identity with a kind of non-face, an anonymous blank space between her hat and her torso that substituted for human expression and emotion. And when she looked at us, she projected her own invisibility onto our faces, she saw nothing but mirrors of her own refusal of humanity, and in turn, we saw our invisibility refracted in her eyes. Caught up in this mad funhouse bounce of reflected nonimages, she soon found herself trapped, forever condemned to a view without a room, a horrifying vacuum, a vacant space, a frozen gaze. Like a bat, she would have to learn to listen, if she ever hoped to get out. Map her way by the bounce of sounds. Mentally place her body in relation to the echoes and reverberations of her own voice intermingling, humbly, with the voices of others around her.
And then, maybe, take a few tentative steps, reach out, grasp the hand of another for support, for guidance, for help.
The last time I saw her, little Madame Bourgeoisie had grown desperate with her loneliness and her inability to see. Or maybe it was just another simulation. You could never tell. It didn't really matter anyway.
She was a simulacrum.
She was a cliché.
She was wearing one of those black bowler hats, and she told me a story about a recent trip to New York City, and something about the Charles Chaplin film, City of Lights . I read between the lines. It wasn't hard to do. Something in her wanted the truth to come out, badly, slipped it in no matter how falsely she continued to speak, no matter how ruthlessly her tongue continued to manipulate the rules of zero sum. I watched her lips move out of sync with the words that entered my ears. She was like a poorly dubbed foreign film, a bad Foley job, a doomed silent-era starlet done in by the marching advance of technology. As she spoke, a series of subtitles appeared in holographic form in the air between us, one line replacing the next, a palimpsest of simultaneous fiction and truth...
"Our lies unmask us."
"Our disguises can outlive their survival value, can fuse with our skin, take over our lives."
"Our words carry contagions that can slip from one world to another and then back again."
"Our mutations carry truth."
"Our lies unmask us, leave us changed forever."
"Our dreams are the evidence of our mutation; our lies are the mutation of our dreams."
"Our imaginations animate the inanimate; perceive that they are one and the same."
"Our lives are animate and inanimate; our imaginations mediate."
"Our lives forever overlap and intermingle; resonate."
---
FLOWERS 4 ALGORITHM--Group & Solo Dance II (lost in transmission)
hello and hello -- [-- hello .... and/hello --] Virus spread. However, if I do not have a gun, I need to declare. It is not easy at all. However, I am not applied, in order to apply to mind and to be applied. All of my head and my friend are now. Jaime; wife; -- which equipped his camera --;Jaramillo -- Jimenez with his combat uniform, him, and Girl M .... of -- mysterious -- for [the inside of a bus], and No. 3 -- naturally .... she is you whom .... her (appear) -- existing -- the man is her -- ? -- I am checking your record in order which may perform and understand the arbitrary clear statements of treason However, I cannot but show the true feature of I which equipped each question. All breathing is another form of denial. Therefore, I hold them all immediately. .... which always has it -- it is .... such a thing -- me -- it -- -- of wax -- hello and hello -- [-- hello .. and/hello --] Jaramillo [ -- Natural for [the inside of a bus], and No. 3 / .... The same ? (honest) / .. I who melt and have the shadow it is shadowless in the wall of still more nearly another room call this one power of a stop to promote. ] -- makes the remainder feel sick -- it is -- a release .... further --; .... an eye -- come out surely today today, and since it is, it is only one method that I can see Today. I think His knee is rubbed again..... He does not have a gun. A foolish thing and I. Sufficient circle. I constitute the poetry on an egg shell. However, it will not help Miranda. Furthermore, surely nobody knows there on that day. However, we used up the color. furthermore, it --.... to which the smell is bleeding as it is -- us -- request ? NO -- her fate can be brought about Me ...... Which almost appears? Moreover, it is [ or / it exists from sinking ]. Quickness, therefore I try more intense illness.... It spreads... we wait. Please wait. Please wait. Many options become a still bluer from a color. It is too late. There is a spark which is not attached. There is light which is not caused. Probably, almost appear further and it is one.... It thinks however is universal. M ------ There is a since very mysterious name (virus spread). However, if I do not have a gun, I need to declare. All of my head and my friend are now. Jaime; wife; -- which equipped his camera .... of; -- we should all delete unnecess Some features are the present perfect tense there. /of .... which (however) [(meaningless / these])? Jaramillo wants to own the world in future life. The virus of his and him who controls the past now controls Furthermore, the past records it cannot continue performing the past talk. He was made to the camera attached to the monitor at his face. Furthermore, he has sung opera to the suitable place and is turning the circle. [at the arbitrary moments.. Now.].... They are arbitrary arbitrary moments, now, and now.. Miranda says at the moment, "I am sure that the world can read my idea." however, which ...... [ that which does not come as it ] .... being surprised (.. when this having been said before she opened the mouth, or I having got to know which -- they being cut) -- please open your lie Jaramillo -- ".. .. clear .. it .. [ that it knows which ] .. free -- sick All viruses are seen. .Hello, hello [hello and/]. The virus spread. All of my head and my friend are now. natural to [the inside of a bus], and No. 3 She is you. whom .... her -- coming out -- certain ? -- which person is she? I am checking your record, in order that I may understand performing arbitrary clear statement of treason.. Jaramillo -- Jimenez with his combat uniform and him, and Girl M .... mysterious -- natural to the same -- ?-- honest .. there is a shadow which melts and becomes the wall of another room Furthermore, I call this one impelling force of a stop; which exists -- it is .... .... an eye -- it is only one today. I consider me to be It comes out probably still more mostly, and a certain you do not think, but it is universal. M -- since ---- is a very mysterious name, The virus spread. However, if I do not have a gun, I do not apply, in order to apply to mind. All of my head and my friend are now equipped with his camera --; of we should all delete the unnecessary present perfect tense. /of which -- don't I have? Jaramillo wants to own the world in future life. The virus of his Furthermore, Jaime cannot continue carrying out past recording and past talk made the monitor reach the camera attached to his face opera to the suitable place and Arbitrary [ .. Now. ] which it passed .... Arbitrary arbitrary moments, now, and now .. Moment Miranda says, "I am sure that the world can read my however; --.. which does not come as it being surprised (.. which I got to know when she said this before opening a mouth -- cut them) -- please open your lie Jaramillo -- ".. with clear it .. which it knows .. Free illness. Viruses are all the things seen. [hello and/hello]. The virus spread., I do not with his camera --; of Jaramillo -- Jimenez with his combat uniform and him, and Girl M .... mysterious -- [the inside of a bus], and No. 3 She is you. whom .... her -- coming out -- certain ? -- which person is she? I am checking your record, in order that I may understand performing arbitrary treason. However, I cannot but show the true character of I equipped with each breathing is another form of denial. Therefore, I hold them all. .... a shadow which melts and becomes the wall of another room Furthermore, I call this one impelling force of a stop; which exists -- it is .... the lie with which turns up the remainder -- release furthermore, --.... an eye -- it is only one method since it is sure today. Today. I constitute the poetry on an egg shell. However, it will not help Miranda. She is here. used up the color. smell is may be it that we can bring her fate to a request. me .... .. which comes out mostly and exists from sinking .. quick, viruses are all that are seen. arbitrary arbitrary moments, now, and now moment now Miranda says, "Hello hello hello hello. The virus is spreading but I swear I don't have a gun. It's not getting any easier but I don't mind. In my head are all my friends now. Jaime with his camera; Jaramillo with his riot gear; Jimenez and his third wife; and of course, the mysterious Girl M on the bus. Who is she? What is she to you? This time, I swear, I won't fuck it up. I'm checking your records for any signs of treason but I can't help betraying myself with each interrogation. Every breath is another form of denial, so I'm holding it all in now. It's as honest as I'll ever be. In the other room is a shadow dissolving on the wall and this is what I call the moment of truth. There is only one; the rest are lies. Jaime snaps a shot and I close my eyes; it's the only way I can see for sure. Hi. Hi. Hi. I'm writing poems on eggshells, but it won't help Miranda. She's here and there these days, nobody knows for sure, but we're running out of colors and the smells are bleeding so all we can do is wish her luck. The more I struggle, the quicker I sink. The disease spreads and we wait. Wait. Wait. Too many options of the color blue. Too late. There is an unignited spark. There is an uninvited light. Maybe it's more universal than you think. M---- is such a mysterious name. We should all obliterate unnecessary characters. There is a present perfect tense but I won't have any of that nonsense. Jaramillo wants to own the world in a future life. Him and his virus. And Jaime can't help talking to past recordings of himself. He's got a monitor attached to a camera attached to his face and he's singing opera and turning circles in place. Any moment now any moment now any moment now it's spent. "I'm convinced the world can read my thoughts," Miranda says. But it comes as no surprise; I knew she would say this before she opened her mouth. Turn them off, open your lies. "I'm convinced everybody knows what I'm thinking." Jaramillo laughs and rubs his knees. He doesn't have a gun, but he's ready as he'll ever be. I feel stupid. Full circle. Disease free. The virus is everything you see. However, I cannot but show the true character of I equipped with each question. All breathing is another form of denial. Therefore, I hold them all immediately. .... which always has it such -- me -- it -- wax's consequently I try harder Illness spreads. Furthermore, we wait. Please wait. Please wait. Many options become still bluer from a color. It is too late. There is a spark which is not attached. There is light which is not caused. It comes out probably still more mostly, and a certain you do not think, but it is universal. M---- is a very mysterious name, we should all delete the unnecessary feature the present perfect tense.The virus has spread. However, I will take an oath apply to mind is all my friend now with my head I cannot but show true character of I with each question another form of honest as wax's a shadow which melts into a wall in another room one thrust of a stop.exists only one -- the remainder is a lie composing poetry on an egg shell. However, it will not help the color bleeding desires fate sinks more quick so that I try harder illness spreads options should all delete an unnecessary present perfect tense cannot continue speaking to his own past attached to his face the world can read my lie Jaramillo "it is sure that knows by whom I think of me what" laughs, and rubs his knee. He does not have a gun. However, since that is always right, he is ready. I feel it foolish Sufficient illness. There is light
text: kualyque
text processor: online electronic translator, English->Japanese/Japanese->English (x4)
---